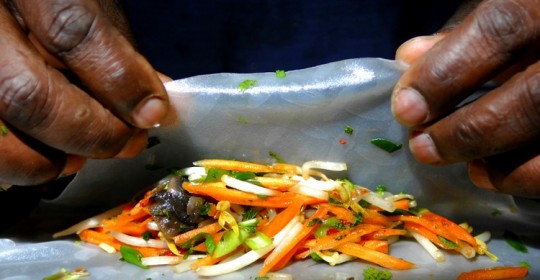 What could be more foodtastic than winning the first ever Food for Good award? By the power of food, that's exactly what our ASRC Catering team did on Monday.
Food for Good is a new award from the lovely folk at The Age Good Food Guide. The award celebrates innovation, charity and sustainability. To win the award we had to "go above and beyond to contribute to the broader community".
Offering a global food experience with a cause
For over 10 years, ASRC Catering has helped people – who have found safety and now have the right to work here – to build back their confidence and learn new skills. We've employed over 30 asylum seeker members, who now have stable jobs, a steady income and a successful career in the hospitality industry.
Our food reflects the rich and diverse cultures of our asylum seeker members, which is expressed in the modern interpretations of classic flavours from Africa, the Middle East and Asia. Our menu wanders around the world.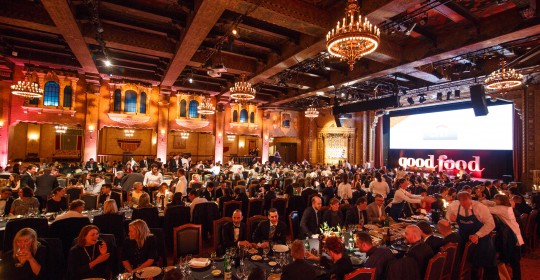 Receiving the Food for Good Award
We felt mixed emotions receiving the award that night as our catering manager, Caroline, dedicated it to one of our chefs who has been on the staff for the last four years and is currently in detention in Darwin.
Caroline said "I was really surprised to win due to who we were up against, including STREAT, FareShare, SecondBite and OpenTable. We knew they had chosen a diverse group of social enterprises that were all well established and running sustainably and successfully.
"I felt really happy winning and thought the award night raised our profile. It was lovely to meet so many people who were very supportive of the work we do.
"ASRC Catering winning the award is testament not only to our food, but to those chefs; to the people that make up our community and deliver food for good.
"It highlighted that we're more than just a catering company, we're a social enterprise that employs people who have come to Australia seeking a safe place to live."
Congratulations to our catering team of ASRC asylum seeker members! Let's keep winning and supporting one another through the power and goodness of food.
Check out what we offer over on our delicious looking new website
When you choose to enjoy our food at your event, you get double the goodness as you are helping to empower people seeking safety in our community. As a customer, you'll hear about their experiences, you'll learn about our community and you'll enjoy wonderful food.
It's a bit like getting a donut and finding out there's jam inside.
Leave a reply