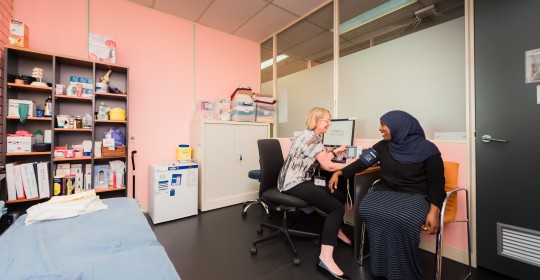 The ASRC's immunisation program is fast becoming one of the centre's most successful health programs and from July 2016, will move from fortnightly to weekly clinics. The program's aim of immunising 120 members per month, underpins its long-term objective of immunising the ASRC's 3000 plus members.
Focused on full catch-up immunisations for a number of diseases, including polio, hepatitis, mumps and rubella, the program is vital for ASRC members, many of whom have never been previously immunised. Part of the program includes a health consultation to assess the person's full medical history, and from there a personalised vaccination schedule is administered.
Victoria has the largest intake of refugees and people seeking asylum in Australia. They often have complex and chronic physical and mental health condition on arrival in Victoria. For a majority of people who do not have access to a Health Concession, expensive prescriptions are often out of reach and unaffordable.
Launched in May 2015, with four nurse immunisers and five support staff, the program was warmly welcomed by members, two of whom were so excited to be part of the first group to be immunised, they sang a 'welcome song' for program staff.
The program has quickly grown to a highly dedicated team of 25 volunteers, including 15 nurse immunisers. To date, the clinic has seen a total of 270 members with 48 completing full catch-up immunisations.
The program's shift to weekly clinics will be vital in supporting members to complete their full catch-up immunisation.
About the ASRC Health Clinic
The Health Clinic is an integral part of our commitment to protect and improve our member's physical, mental and social wellbeing. Our services are all the more vital for a majority of our members who may have Medicare access but remain ineligible for a health concession card.
The clinic specialises in primary health care and our services include triage, general practice, physiotherapy, message, podiatry and acupuncture.
In the 2014-2015 financial year, the health program delivered 3,576 health appointments and treated 520 patients. The program is upheld by three staff and 75 volunteers who provide specialist medical skills, health promotion, advocacy and research and program support.
Leave a reply