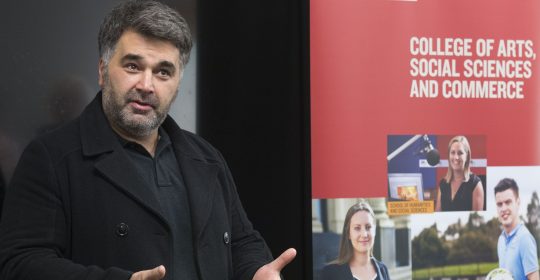 As of this year, La Trobe University, in partnership with the Asylum Seeker Resource Centre will offer two full scholarships to support people seeking asylum access higher education every year for the next three years.  
For six lucky people, they will overcome the barrier of extravagant international student fees so they can pursue their education goals.
Umey*, who is from Sudan was awarded the partnership's first full scholarship to study a Bachelor of Law at La Trobe. He says that if he hadn't received this opportunity he would have had to quit his studies altogether.
Speaking to Umey, you can hear his excitement for the scholarship and the opportunities it will bring.
'I want to rebuild my life in Australia and work as a lawyer here to make a positive change,' he said in an interview. 'I'm looking forward to meeting friends at university and building a network and community here. I want to be involved in the community and learn every single day.
Umey was a practicing criminal and civil lawyer in Sudan and refugee advocate in Uganda before he was forced to leave in 2010. His passion for human rights and social justice led him to help implement health, education and settlement support services for Sudanese refugees living in Uganda. Umey is hoping to continue this work in Melbourne.
'I want to work in Australia and make a positive social change. I understand the difficulties people seeking asylum face when they come here. They need help with a complicated and unfamiliar legal process. I hope by furthering my legal studies, I can continue to help those that need it most.'
Umey also hopes to encourage other students seeking asylum.
'I want to tell anyone seeking asylum not to give up. If you really want something in Australia, you can work hard and get it.
'When I first started studying in Australia, my marks were very bad. My English was poor so my first semester was really hard for me. But I kept working and started doing better.
'English isn't our first language, so where other students study for five hours, we have to study for ten. We don't have the same opportunities as other students, but we need to take and use every single one we get.
'I am incredibly grateful to La Trobe and the Asylum Seekers Resource Centre for supporting me through my education and for supporting fellow asylum seekers.'
ASRC Founder and Chief Executive Kon Karapanagiotidis said 'The scholarship support offered by La Trobe to people seeking asylum is groundbreaking in its scope and potential impact; they are making it possible for refugees to touch the sky, realise their unlimited potential and thrive. They are helping nurture our future leaders, innovators and entrepreneurs.'
Professor Tony McGrew, Pro Vice-Chancellor of La Trobe University says: 'La Trobe has a long-standing reputation of supporting students seeking asylum, and these new scholarships reflect that commitment. We recognise not only the desire many people seeking asylum have to take advantage of higher education opportunities, but also the barriers that often thwart their aspirations. That's why scholarship programs are so important.'
The two scholarships cover full tuition fees for the students. They will also receive an additional $3000 annual bursary for living expenses, along with a laptop each.
For more information about the ASRC and La Trobe's scholarship program, go to www.asrc.org.au/latrobe.
*Names have been changed to protect privacy.
Leave a reply