In the last six months, the Community Engagement team have rolled out community action workshops and conversation projects across regional Victoria and metropolitan Melbourne to support and work alongside people to have a values-based conversation around people seeking asylum. These projects are key to realising the Right Track campaign and the Advocacy and Campaigns' stream vision to build a community that respects and upholds the rights of people seeking asylum.
The team also engages and works alongside people seeking asylum and diverse communities to frame a discussion that is beyond politics, and that is centred on fairness and the way we choose to treat people.
Over 250 people have already participated in workshops this year in Benalla, Torquay, Brunswick, Hawthorn, Dandenong and Footscray, with more workshops in metropolitan and regional areas to be held in the coming months.
The next stage of the campaign in Melbourne will be drilling down on different ways people can influence this discussion in their own communities. The team will be facilitating meet-ups where people can come together to network, plan and hear from others taking action locally.
Right Track has already expanded to Brisbane where over 100 people attended a community action workshop last week on how to more effectively advocate for the rights of people seeking asylum.
Soon Sydney will soon host their first workshop for community groups, organisations and individuals to assist them to shift attitudes around people seeking asylum, in the lead up to the next federal election.
Alongside community action workshops and conversation projects, the team host an online community of practice where people can share their experiences and workshop ideas about how to bring people more inclusively into the conversation.
The work of the community engagement team has been informed by the Words that Work research, which offers an evidence-base around language and frameworks that support communities to shift attitudes.
If you'd like to get involved in the Right Track movement and register to attend a workshop or meet, visit their page here. You can also sign up to receive campaign updates around Right Track here.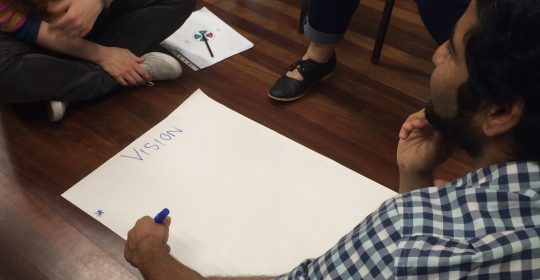 Leave a reply