The ASRC is thrilled to announce that Tamie Fraser, widow of former Prime Minister Malcolm Fraser, stands beside us as a Patron.
Mr Fraser, who served as the 22nd Prime Minister of Australia between 1975 and 1983, was himself an active ASRC patron until his death in March 2015 (and he is still honoured as a Patron now).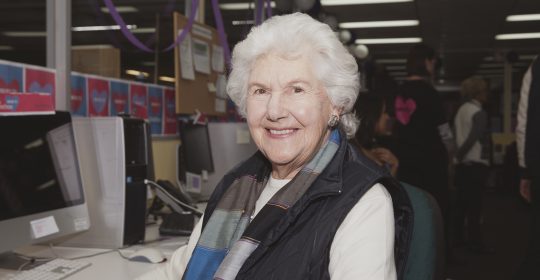 Mrs Fraser has long been an advocate for the rights of people seeking asylum, and a critic of offshore detention and other government responses in this significant area of public policy.
People seeking asylum continue to face some of the toughest challenges while living in our community,' Mrs Fraser says. 'The extraordinary work of the ASRC in supporting those who have come to our shores in search of a better life, represents an Australia of which we can all be proud. It is for this reason that I am delighted to lend my support to the team at ASRC.
Our newest Patron also recently answered the phones during the ASRC's Telethon on World Refugee Day and on the same day appeared on ABC 774, publicly criticising the current Liberal government's stance on refugees appeared.
Last year I didn't talk about this because there was an election coming up, but I can't look at it any longer and say it's OK. It's not ok to treat refugees as they're being treated in Australia at this time.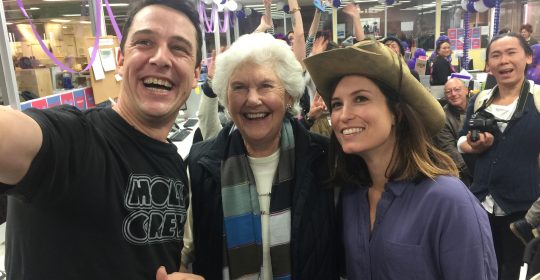 Mrs Fraser is highly regarded for her advocacy work, beginning well before the time of her husband's prime ministership. She began her work as a young Red Cross volunteer and has contributed more than 60 years of membership and active service to the organisation. In Canberra, in the 1960s, she established an auxiliary committee to support children with disabilities at Koomarri House. She raised over $1million for the Hamilton Hospital as Chair of its fundraising committee, was active with the Stroke Foundation, and most recently joined the Council of Governors of the Flory Neuroscience Institute. She was also President of the Australiana Fund from 1978 to 1983 and was President of Australia's Open Garden Scheme between 1992-2015.
In 2004, Mrs Fraser was made an Officer of the Order of Australia for her service to the community, specifically in 'fostering the recognition and preservation of Australian artistic achievement, for initiating and promoting a range of activities to support people with disabilities, and for support of charitable, health and service groups.'
Her role as Patron of the ASRC sees her continuing the vocation of her late husband who worked hard for a multicultural Australia. Mr Fraser is remembered for his pro-immigration policies and for granting entry to 200,000 migrants between 1975 and 1982, including 56,000 refugees from the Vietnam War and 2,059 'boat people'. His immigration program focused on resettlement and multiculturalism and he created the Australian Institute of Multicultural Affairs in 1978. His government also established migrant resource centres, provided funds for English language teaching, improved translator services, and diversified radio and television services (most notably, he is considered the 'founding father' of SBS). After his time in public office, Mr Fraser founded Australian for Just Refugee Programs (now A Just Australia) and The Justice Project in 2004.
All the while, Tamie Fraser worked tirelessly beside him to improve the lives of refugees and people seeking asylum in Australia. She continues to do so now, carrying her late husband's legacy and striving always for a more multicultural and welcoming Australia.
Leave a reply