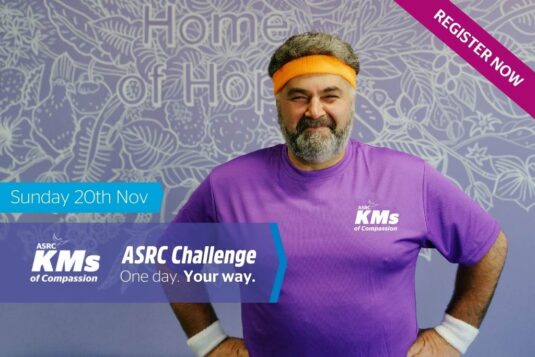 Here at the ASRC, we've faced some pretty tough challenges: from finding ways to keep our doors open through the pandemic, to campaigning hard against this government's disappointing budget, which puts even more public money into offshore and onshore detention.
But now I want to share some news about a challenge that I'm actually looking forward to. This year, the ASRC Challenge is back. It's one day, your way, which means you choose your own challenge, and clock up your Kilometres of Compassion to raise money for refugees.
On Sunday 20th November, I'll be walking 50km to raise a mega $50,000 for the ASRC. And I won't be alone. I'll be joined by my team, Kon's Compassionate Crew. And you could be there, showing your solidarity with refugees right alongside us. Register today for the ASRC Challenge: https://kmsofcompassion.asrc.org.au/
Whether you walk with me in person, for as long as you choose to, or clock up your Kilometres of Compassion wherever you are across the country – we can all play a part in creating a fairer, more welcoming Australia.
The fact is, every dollar we raise will go directly toward providing safety and dignity to thousands of refugees and people seeking asylum.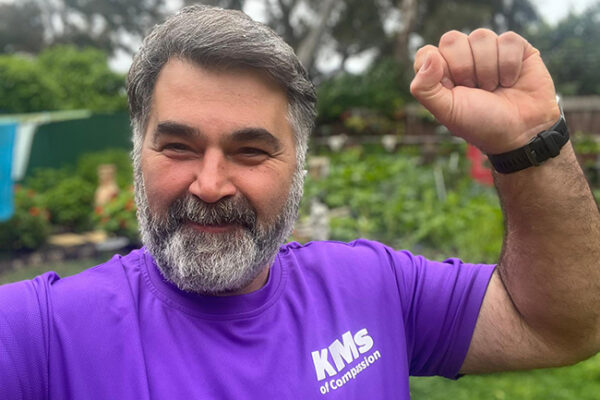 Here's How To Join

To join my team, simply register your ASRC Challenge today, and select the option to 'Join Existing Team'. Then type 'Kon's Compassionate Crew' in the search field.
If you've already registered, it's even easier: log into your account, head over to my page and click the button 'Join Kon's Compassionate Crew'.
On Sunday 20th November, I'll be setting off on a 50km walk from CERES Community Environment Park in Brunswick East, Melbourne, Victoria along with my team; Kon's Compassionate Crew. We'll start the day off with a feed at 7am, lace up our walking shoes, and go from there.
Rachel's Story

Maybe you prefer to move your body some other way. The beauty of the ASRC Challenge is that you can pick your own activity to carry out solo, or as part of a team with friends, family, or colleagues.
I was inspired to hear Rachel's story, who took on the ASRC Challenge with her husband and two courageous young kids last year. Here's what she had to say:
"We took part in ASRC Challenge in 2021, and it was a wonderful day out raising money for a fantastic cause. Myself, my husband and our two kids (three and six years old at the time) walked about 11 kms along a nearby bike path, and managed to raise almost $900…."
"Even when those little legs got quite tired (as they did well before we reached our destination) what possibilities this created for reflecting on the extreme hardships so many others face in this world, and what an incredibly small sacrifice our exertion was in contrast."

"We will definitely be taking part again this year, and considering doing a bike ride just to mix things up. I am personally aiming to crack the $1000 mark this time around!"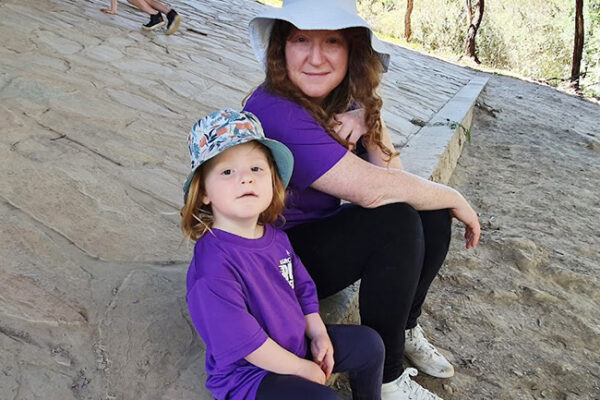 It doesn't get better than that: families coming together to take on a challenge, move their bodies, and talk about the things that really matter.
Can't take part? You can still show your solidarity with refugees – head over to my fundraising page, and donate what you can, or come down to cheer us on at CERES.
Whether you're walking alongside me, donating your dollars, or raising money with your own ASRC Challenge – I'm honoured to have you on my team.
– Kon Karapanagiotidis, ASRC CEO
https://kmsofcompassion.asrc.org.au/
Leave a reply