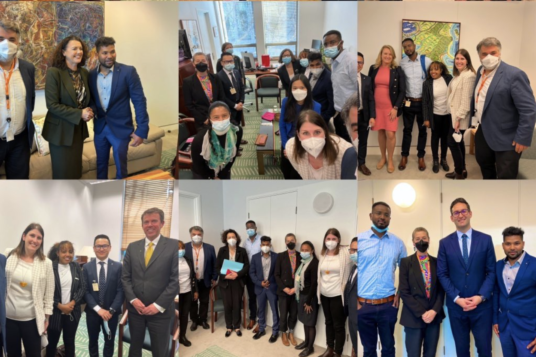 "Something very special happened last week and you all were a part of it.
Kon and I spent three days in Parliament House for the first sitting period of the 47th Parliament. 
We headed into each meeting, some with new MPs, some with old-time allies of good refugee policy, with a focus on four key points: Ending arbitrary and indefinite detention; Work rights for all; Permanent protection; and Fair process. On Day 2, we also had the opportunity to lead a sector and refugee delegation (Ismail, Thanush and Betelhem) seeking the urgent medical evacuation to Australia of the 216 trapped on PNG/Nauru.
Our visit aimed to update politicians on the current situation facing refugees onshore and offshore, highlight our advocacy priorities and provide the opportunity for refugees to speak directly to politicians and advocate for a change to the policies that they have lived through and suffered from.  
Together, we outlined the current situation and the mechanism for change.
How does the ASRC approach these visits to Parliament? 
We always urge MPs/Senators to use their voice in Parliament to make statements or use Question Time when we meet with them. This is a powerful way to put a spotlight on refugee issues and also sends a message of hope to refugees, knowing there are good people in Parliament keeping the pressure on for change.
We usually hope to get one such statement during each visit… but something unprecedented happened this time. 
Hope reigned in Parliament as we've never seen before
After our meetings, an unprecedented 12 members of Parliament stood up to speak about our priorities and called for reform. This included using the matter of public importance in the House of Representatives.
A "matter of public importance" has always existed, but it has been a bit of an empty mechanism for an opposition to put something to a government. 
However, that has changed in this Parliament with the crossbench given an MPI every sitting period with 6 crossbench making a statement and the Government responding. 
The first MPI for the 47th Parliament was on refugees – specifically calling for the end to indefinite and arbitrary detention. This was momentous.
The following is a direct result of 3 days of meetings with 25 MPs/Senators/Advisors, including the Minister for Immigration, Shadow Minister for Immigration and Immigration Spokesperson:
These results are not just about 'Kon and Jana in Canberra' but are a reflection of the expertise, dedication and work of everyone at the ASRC.
And most importantly, a reflection of the incredible power of refugees leading advocacy as it was the words of Ismail, Betelhem and Thanush that compelled our elected representatives to act, care and honour their stories.
We left Canberra full of hope for the new Parliament. Not only the law and policy reform that will happen but also the change to the national conversation and prominence of refugees leading advocacy.
Jana and Kon
Leave a reply